Embroidermodder 2.0.0-alpha4
(IN ALPHA DEVELOPMENT: NOT READY FOR SERIOUS USE.)
Embroidermodder is a free and open source machine embroidery application. If our project is successful, it will:
edit and create embroidery designs

estimate the amount of thread and machine time needed to stitch a design

convert embroidery files to a variety of formats

upscale or downscale designs

run on Windows, Mac and Linux
To try out the software in alpha see our downloads page.
Various sample embroidery design files can be found in the github samples folder.
Screenshots
If you use multiple operating systems, it's important to choose software that works on all of them.
Embroidermodder 2 runs on Windows, Linux and Mac OS X. Let's not forget the Raspberry Pi.
Realistic Rendering
(This feature is currently broken.)
It is important to be able to visualize what a design will look like when stitched and our pseudo ``3D'' realistic rendering helps achieve this.
Realistic rendering sample #1:
Realistic rendering sample #2: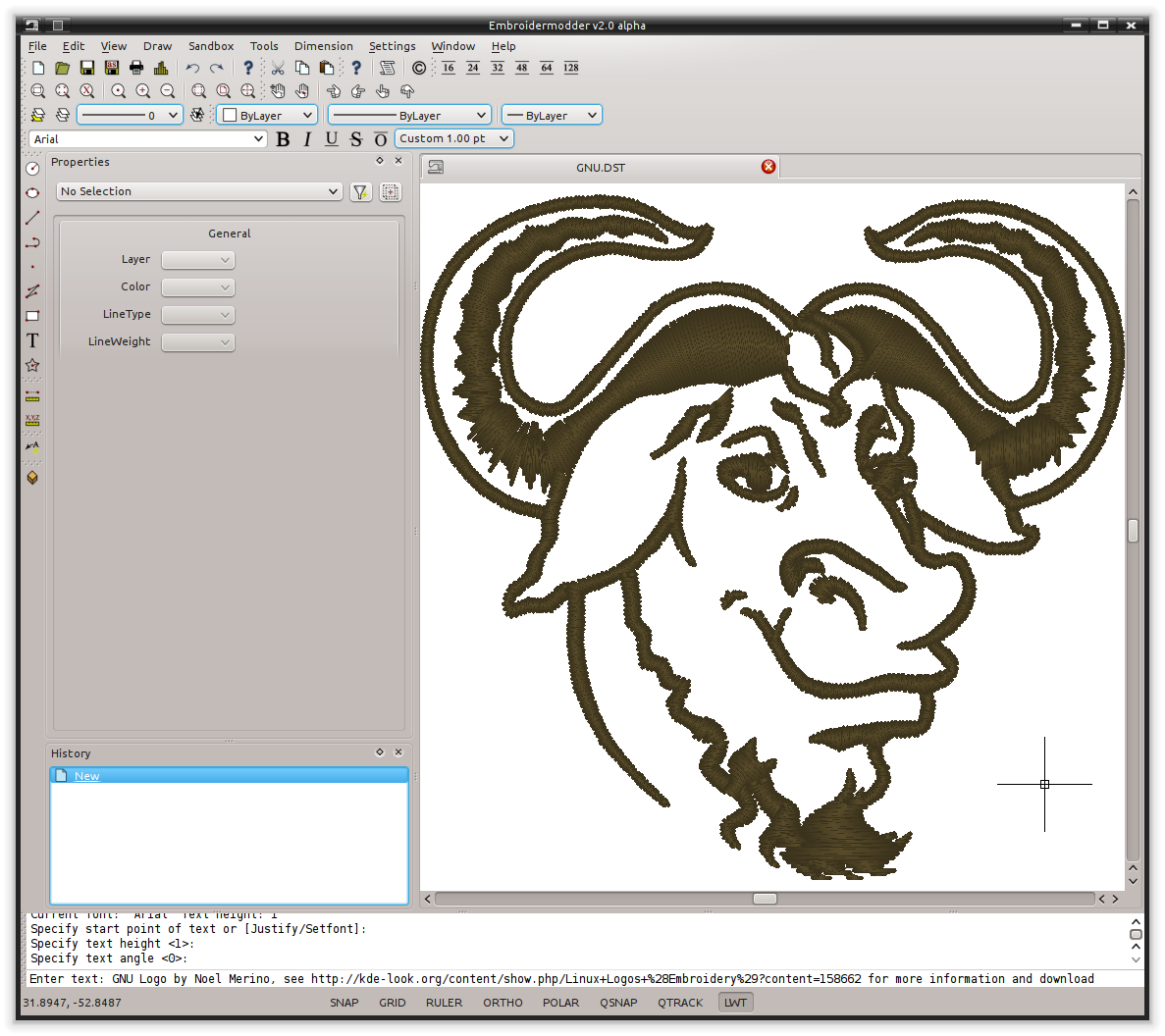 Realistic rendering sample #3:
Various grid types and auto-adjusting rulers
Making use of the automatically adjusting ruler in conjunction with the grid will ensure your design is properly sized and fits within your embroidery hoop area.
Use rectangular, circular or isometric grids to construct your masterpiece!
Multiple grids and rulers in action:
Many measurement tools
Taking measurements is a critical part of creating great designs. Whether you are designing mission critical embroidered space suits for NASA or some other far out design for your next meet-up, you will have precise measurement tools at your command to make it happen. You can locate individual points or find distances between any 2 points anywhere in the design!
Take quick and accurate measurements:
Add text to any design
Need to make company apparel for all of your employees with individual names on them? No sweat. Just simply add text to your existing design or create one from scratch, quickly and easily. Didn't get it the right size or made a typo? No problem. Just select the text and update it with the property editor.
Add text and adjust its properties quickly:
Supports many formats
Embroidery machines all accept different formats. There are so many formats available that it can sometimes be confusing whether a design will work with your machine.
Embroidermodder 2 supports a wide variety of embroidery formats as well as several vector formats, such as SVG and DXF. This allows you to worry less about which designs you can use.
Batch Conversion
(Currently this being ported to the embroider command line program.)
Need to send a client several different formats? Just use libembroidery-convert, our command line utility which supports batch file conversion.
There are a multitude of formats to choose from:
Scripting API
The GUI works by emitting internal text commands, so if you want to alter or add features to the program that aren't as low level as these commands then you can chain them together in simple scripts. This allows more control over the program than the GUI can offer.
A (no longer current) Embroidermodder 2 command excerpt:
Current and Planned Work
See the file todo.md for an up-to date to do list. The first section concerns our current work.
When we reach beta, the file changelog.md records the changes with dates so you can see how your workflow may be affected and whether you may wish to try out the new features.
About
The Embroidermodder 2 project is a collection of small software utilities for manipulating, converting and creating embroidery files in all major embroidery machine formats. The program Embroidermodder 2 itself is a larger graphical user interface (GUI) which is at the heart of the project.
The tools and associated documents are:
They are all tools to make the standard user experience of working with an embroidery machine better without expensive software which is locked to specific manufacturers and formats. But ultimately we hope that the core Embroidermodder 2 is a practical, ever-present tool in larger workshops, small cottage industry workshops and personal hobbyist's bedrooms.
Embroidermodder 2 is licensed under the zlib license and we aim to keep all of our tools open source and free of charge. If you would like to support the project check out our [Open Collective](https://opencollective.com/embroidermodder) group. If you would like to help, please join us on GitHub. This document is written as developer training as well helping new users (see the last sections) so this is the place to learn how to start changing the code.
The Embroidermodder Team is the collection of people who've submitted patches, artwork and documentation to our three projects. The team was established by Jonathan Greig and Josh Varga. The full list of contributors who wish to be credited is here.
History
Embroidermodder 1 was started by Mark Pontius in 2004 while staying up all night with his son in his first couple months. When Mark returned to his day job, he lacked the time to continue the project. Mark made the decision to focus on his family and work, and in 2005, Mark gave full control of the project to Josh Varga so that Embroidermodder could continue its growth.
Embroidermodder 2 was conceived in mid 2011 when Jonathan Greig and Josh Varga discussed the possibility of making a cross-platform version. It is currently in active development and will run on GNU/Linux, Mac OS X, Microsoft Windows and Raspberry Pi.
The source code and binaries for Embroidermodder 1 were hosted on Sourceforge, but due to link rot we've lost them. TODO: upload a backup here.
This website was moved to GitHub on September 9, 2013. Due to us losing the domain name it was renamed to www.libembroidery.org from www.embroidermodder.org.
The libembroidery library became a seperate project in 2018 as a way of supporting other frontends with the same file parsing and geometry routines.